Friday August 31st, 2001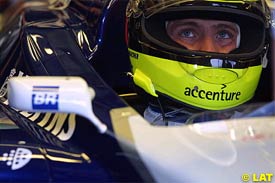 German Ralf Schumacher admitted he was surprised with the performance of his Michelin tyres in the wet second practice session for Sunday's Belgian Grand Prix.
Despite that, the Williams driver, who on Thursday said his team could struggle at the Spa-Francorchamps circuit if the rain fell in the Ardennes, set a less than promising seventh quickest time today, more than two seconds off his brother Michael Schumacher, who topped the timesheets with his Ferrari.
Despite his time, and a gearbox problem which hampered his progress in the afternoon session, the German driver was confident for Saturday's qualifying.
"In the second session I was not able to do as many laps as planned due to the gearbox problem, but the current Michelin tyres left me with a good impression, much better than expected," said Ralf. "In the dry conditions in the first hour the balance of the car wasn't perfect as I had too much understeer. We have some work to do but I am confident of the outcome."
Teammate Juan Pablo Montoya struggled during most of today's session, the Colombian finishing his day spinning off the track at the Les Combes corner, causing heavy damage to his Williams. The rookie, however, said he was happy with the balance of his car after setting the 16th quickest time of the day.
"I struggled with understeer for most of the session, but the car was very balanced and had plenty of grip on full wets - this was maybe the best I had ever felt the car in any condition," Montoya said.
"Near to the end of the session, we tried intermediates, but with seven or so minutes to go, I lost grip, turned left and then right, but the car just went straight on into the barrier."
Published at 14:48:15 GMT
---