Friday August 31st, 2001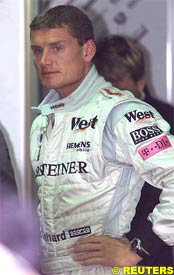 McLaren's David Coulthard escaped unhurt from a heavy impact in the drier morning session, when the fastest times were set. The Scot hit the barriers almost head-on after running over a kerb into gravel and then slewing across the track.
The incident, at the right-left Les Fagnes bend where cars approach a maximum 160 km/h, sent the crippled McLaren skidding backwards along the barriers before coming to a halt. The car was heavily damaged, with the right front wheel dangling from its tethers.
Coulthard clambered out but stayed with the wrecked car for the rest of the session, having managed just three laps without setting a competitive time, and failed to get out in the afternoon.
"Obviously it's not an ideal situation as every lap you don't do on a track is a handicap," said Coulthard. "I got on the grass on the wrong side of the kerb and lost the back end of the car. The mechanics worked very hard and almost succeeded in having the car ready before the end of the session.
"We have lost some information, but we will look at what Mika has been doing. Anyway I really like the circuit as it has the perfect mixture of fast straights, corners and tricky hairpins and offers numerous overtaking opportunities."
Teammate Mika Hakkinen, who last year clinched one of his best wins in Formula One at Spa, enjoyed a much positive day after setting the fifth fastest time.
"I had a few problems getting a clear run in any of the sectors today as there was either traffic or yellow flags," said Hakkinen. "I put on new tyres to go for a quick run but then it started to rain heavily. I always enjoy driving at Spa, it's one of the most exciting and challenging tracks, especially the blast up to Eau Rouge.
"Set-up is crucial and often has to be a compromise as it can be dry on one part of the circuit and raining on another as we saw today."
Published at 15:21:25 GMT
---