Thursday February 1st, 2001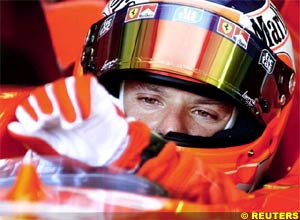 Frenchman Olivier Panis topped the times sheets on the twelfth out of the fourteen consecutive days of testing at the Barcelona circuit in Spain on Thursday.
The BAR driver, whose team returned to the Catalan track today, drove the old 002 chassis, completing 72 laps with a fastest time of 1:19.772, more than half a second quicker than Rubens Barrichello driving the Ferrari F1-2000.
While teammate Michael Schumacher shook down the new F2001 at Fiorano, Barrichello rejoined the testing session at Barcelona today, working on the tyre development programme. Barrichello was second quickest after 68 laps.
Jordan's Jarno Trulli was third at the wheel of the new EJ11, the Italian being one the busiest drivers today with a total a 92 laps completed.
The Sauber team resumed today their intensive testing programme with both German Nick Heidfeld and Finn Kimi Raikkonen driving the new Ferrari-powered C20 chassis. Heidfeld set the fourth fastest time, while 21-year old Raikkonen continued showing his impressive form, being only three tenths of a second slower than his teammate after a massive 98 laps.
New Arrows driver Enrique Bernoldi replaced teammate Jos Verstappen, who was expected to shake down the new A22 chassis at Silverstone today. However, the test was delayed until tomorrow for unknown reasons. Meanwhile, Bernoldi worked with the electronics technicians to test and develop the traction control system, setting the fifth fastest time of the day.
Canadian Jacques Villeneuve drove the new BAR-Honda 003 and was seventh fastest, in front of the first of the Michelin runners Juan Pablo Montoya. The Colombian finally got his first taste of the new Williams FW23, replacing teammate Ralf Schumacher.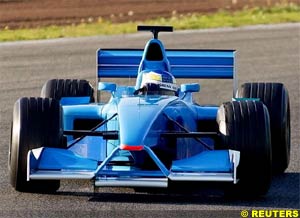 "The car felt really good," said Montoya. "I spent the day doing some set-up work but my running was limited as I was stopped by some minor engine problems."
The Benetton team ran their new 2001 car for the first time today. The livery-free B201 took the track halfway through the session with Italian Giancarlo Fisichella at the wheel.
In front of technical director Mike Gascoyne, the Renault-powered car completed 44 laps, setting the ninth fastest time of the day without reported problems. However, Fisichella's fastest lap was set during the morning, when he drove the B200.
Teammate Jenson Button worked all day on the old chassis and, despite running 71 laps, he had to settle with the slowest time of the session.
Today's times:
Pos  Driver        Team-Engine         Tyres  Time   
 1.  Panis         BAR-Honda           (B)    1:19.772
 2.  Barrichello   Ferrari             (B)    1:20.294
 3.  Trulli        Jordan-Honda        (B)    1:20.393
 4.  Heidfeld      Sauber-Petronas     (B)    1:20.416
 5.  Raikkonen     Sauber-Petronas     (B)    1:20.718
 6.  Bernoldi      Arrows-AMT          (B)    1:21.001
 7.  Villeneuve    BAR-Honda           (B)    1:21.175
 8.  Montoya       Williams-BMW        (M)    1:21.581
 9.  Fisichella    Benetton-Renault    (M)    1:21.679
10.  Button        Benetton-Renault    (M)    1:22.254

All Timing Unofficial

---