Monday February 5th, 2001
The new Toyota Formula One team, due to make their debut in the 2002 season, will begin testing a prototype of their car before the end of March, it was announced today in Tokyo.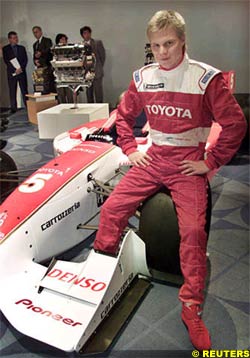 The Japanese manufacturer, who will be the second Formula One team to build their own chassis and engine along with Ferrari, will begin an intensive development programme at the end of next month with drivers Mika Salo and Allan McNish at the wheel.
The tests will initially take place behind closed doors at the test track at Toyota's factory in Cologne, Germany.
"I just saw our provisional test schedule and it looks like a very busy season," said Salo. "The car is new. There will be a lot of problems that we have to solve as fast as possible.
"I'm happy to be just be involved and very excited to be in Australia in 2002 for our first race and see how fast we can go and how our rivals will be."
Tsutomu Tomita, chairman of Toyota Motorsport GmbH, also announced a basic agreement with oil company Exxon Mobil for a technical partnership for their Formula One programme, as well as the appointment of Italian engineer Gianfranco Fantuzzi as their team co-ordinator.
Toyota already fired up their first Formula One engine back in June last year and their prototype car will be unveiled on March 23.
---