Tuesday February 6th, 2001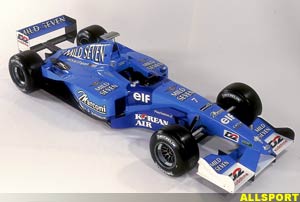 Benetton Renault Sport became on Tuesday the seventh Formula One team to launch their new 2001 challenger, as they unveiled the B201 at the St. Mark's Square in Venice, Italy.
On a misty morning in Venice, amid high security, the new B201 car and drivers Jenson Button and Giancarlo Fisichella were presented to hundreds of media and guests.
The new chassis, which already made his track debut at Barcelona last week, has been built around the revolutionary 111-degree V10 Renault engine, the widest V for a Formula One engine this season. The B201 will also be the last car to carry the Benetton name, before the team take the Renault name.
The president of Renault Sport, the team's owners, Patrick Faure, told the media: "This year is one of transition and adjustment for us and we plan to strengthen the team and test a lot of new ideas. We want to make a great technological leap forward in terms of compactness, weight, and efficiency.
"Technological research and innovation are the very essence of Formula One," he continued. "In order to win, new creative solutions are needed new engines and new aerodynamics but also new creative partners."
Renault took over Benetton in March last year and this season is the last in which the famous Italian fashionwear company will be involved in the sport they entered in 1981.
Their 20 years involved in the highest level in motor racing saw them win the drivers' World Championship with Michael Schumacher in 1994 and take both drivers and constructors' titles in 1995.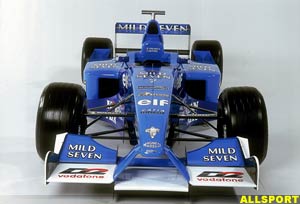 The Benetton group's headquarters are less than an hour from Venice, and they clearly wanted to make their last ever launch something special.
The team chief, Flavio Briatore, whose job title is Chief Executive for Renault Sport UK, said that he was already delighted with the effect of new boy Jenson Button, who had obviously had a motivational effect on Giancarlo Fisichella, but he said: "Winning the championship in 2001 is not our goal. Our goal is to put the right people with the right tools into a development programme in place for the future.
"We decided in the end to start with a new engine," added Briatore. "Sure it was much more sensible with the old one, but if you start with the old one you never develop properly the new one. If you want to take the risk, like I tell you before, new engine and new tyres, then itís exactly the year we need to do this."
The extravagant launch of the new B201 is estimated to have cost Benetton around half a million dollars, and the team had to get exclusive permission from Paolo Costa, the Mayor of Venice.
---

Reuters images from today's launch:

---
---