Tuesday February 6th, 2001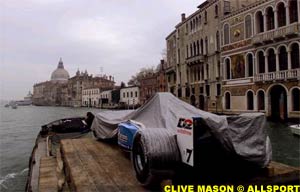 Luciano Benetton, the founder of the Benetton empire, attended the last launch of his his company's Formula One car in Venice on Tuesday and emotionally reflected on a 20-year spell in the sport.
The Benetton team will be re-branded as Renault next year after the French manufacturer's buy-out last year.
"Our baby has grown up," said Benetton. "Now our baby needs to have a new tutor. We feel that we have found the best tutor.
"Despite the fact that we are not the hosts here but the guests, we still have feelings of excitement and adrenaline for the new car."
Renault boss Patrick Faure said that the extravagant launch was praise for the Benetton family, whose name will disappear from Formula One at the end of the year.
Faure said: "Normally you wouldn't expect this launch to take place in a beautiful place like Venice because normally you don't have cars on the streets of Venice - you have Gondolas.
"But we are here because we are paying tribute for their warm and efficient work of the Benetton family in F1 over many years."
Benetton Managing Director Flavio Briatore added: "Without Luciano we wouldn't have achieved what we have in the last 10 years. We had a good time and won a lot of races."
---