Tuesday February 6th, 2001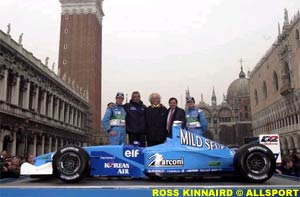 Renault are aiming to use its full return to Formula One in 2002 as a base to transform the company by the year 2010.
Patrick Faure, Renault Sport president, said at the launch of Benetton's new car in Venice on Tuesday that Formula One will allow the French manufacturer to grow.
"You might wonder why Renault have come back after winning all the championships we have," he said. "We have changed greatly in the last three years. We are now one of the five biggest car companies in the world.
"In the year 2010 we have to sell 4 million cars compared with little more than 2 million today. We need to become known all over the world, and what better than Formula One."
However he added that their return was not just for the commercial aspects. "There is still a sporting challenge," Faure continued. "We have never won a championship with a complete package.
"We went close with Alain Prost in the mid 80s but we've never done it ourselves with car, engine and team."
The Benetton team will be re-branded as Renault in the 2002 season.
---