Tuesday February 6th, 2001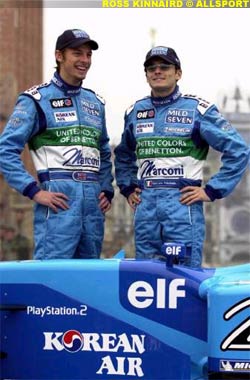 Giancarlo Fisichella hopes to banish the memories of an indifferent end to last season by proving his worth to the Benetton team this year with race wins.
Italian Fisichella was criticised by Benetton Renault managing director Flavio Briatore near the end of last season for a string of poor performances.
"My target is to win my first race in Formula One and for the team to finish in the top three in the constructors championship," said Fisichella at the team's launch of their new car in Venice on Tuesday. "It's great to be with Renault. I'm sure we will be a great team."
The launch of the B201 was spectacular, with water-filled blue perspex walls descending into a six-foot high platform to reveal the new car. It is the first Benetton under the ever-improving design team of former Jordan man Mike Gascoyne.
"We have got a lot of key people in key areas," said Gascoyne. "We're trying to take the team forward as quick as we can and make a competitive Formula One team. We have a lot of changes, but believe we have the ingredients to grow stronger and stronger."
Jenson Button, who is on a two-year loan deal from Williams, is keen to be part of a growing team, and says that the key to Benetton's season will be constant development.
"I want to have a lot of good race finishes and do the best job I can to keep the team moving forward throughout the season," said Button. "The most important thing is that they keep making big improvements."
---