Tuesday February 6th, 2001
By Alan Baldwin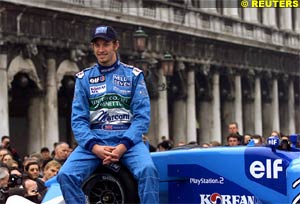 Briton Jenson Button intends to make a more aggressive start to the new Formula One season than his debut last year.
But he warned at the launch of Benetton's new B201 in Venice that the team was slightly behind schedule for the first race in Australia on March 4.
"I am a lot more experienced and I can push a bit harder on the circuits because I know them, I know where all the little bumps are and things like that," said the 21-year-old, who raced for Williams in 2000.
"So I am going to push harder, but from the first race I'm not sure, we'll see.
"We all know what to expect, I think, in Formula One, but it is going to be tough and we are a little bit behind schedule."
Button has said his debut in Melbourne last year was an eye-opener and he crashed in practice.
New And Revolutionary
Benetton have a new and revolutionary Renault engine this season and have said they are aiming to consolidate and improve on their fifth place overall last year rather than challenge for the title.
"From what I have seen it looks good for the end of the season and it would be nice to get some podiums," said Button, who finished eighth overall last year with fourth place his highest finish to date.
Button became the youngest ever points scorer in Formula One in an impressive debut season before he was loaned to Benetton for two years.
He said his life had inevitably changed, although he remained much the same as a person.
"I love the lifestyle," he said.
"I don't pay for anything any more, that's probably one way how I've changed. It's great. I wear more expensive clothes because I don't have to pay for them but that's really the only reason.
"Hopefully, I haven't changed too much. But you have to change slightly because it's a completely different lifestyle," he added.
"Every 21-year-old would want to be in Formula One, and not just the men. The girls as well probably."
Button said he worked well with Italian team mate Giancarlo Fisichella, now in his fourth year with the team but still chasing his first win.
Team boss Flavio Briatore has said he hopes Button will push Fisichella harder in races this season.
"We have a good laugh and I think we can work well this year," said Button. "He is bloody quick.
"You don't know what to expect before you come into a team, what the driver's like. He is definitely quick and he'll be a hard team mate this year."
---