Wednesday February 7th, 2001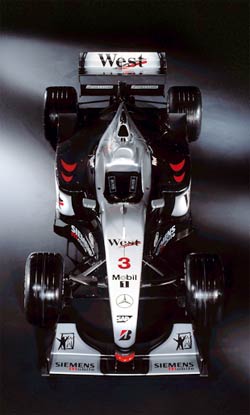 The new McLaren-Mercedes MP4-16, with which the Woking-based team hopes to regain both championships from rivals Ferrari, was unveiled today at the Ricardo Tormo circuit in Valencia, Spain.
As technical director Adrian Newey had already explained, the MP4-16 is a revolutionary new car in order to adapt it to the new aerodynamic rules imposed by the FIA for the 2001 season.
"The MP4-16 is not evolutionary but a totally new car for the new rules," Newey said. "The main one of which is the change to the front wing regulations and this has had quite a knock-on effect on the configuration of the remainder of the car.
"The 50mm [of increased height] might not seem a great deal, but it has had a great impact on the design of the car. In addition, we have a much smaller rear wing. The upper wing is now limited in depth and to a total of three elements, whereas at places like Monaco and Hungary teams have run seven or eight elements in the past.
"The lower part of the rear wing is limited to a single element, where previously some teams have run three elements," he added. "This also has to be mounted very low on the car, so those two changes drastically reduce the amount of wing downforce available.
"This doesn't translate into a big change at circuits like Hockenheim and Monza, but at tracks like Hungary and Monaco there will be a pretty dramatic reduction in the downforce levels."
As revealed earlier today by the team, the MP4-16 has already made its track debut, covering over 500km since last Monday at the Valencia circuit and, according to the team, without any problems.
McLaren chairman Ron Dennis vowed to work harder than ever to bring the drivers' and constructors' championships back to the Woking-based team.
Ferrari and their driver Michael Schumacher won the titles in 2000, and Dennis revealed that no stone has been left unturned as McLaren bid to win back the coveted prizes.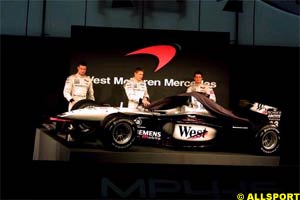 "Our motivation is there any if anything it is deeper than ever and we will be going a lot greyer," said Dennis.
"We have analysed every single lap from every single race last season and we have learned from them and we are ready for the challenge ahead.
"We are digging deeper and we are focused it gets tougher year by year and we are ready."
The new car was unveiled in front of more than 400 reporters in a specially constructed marquee in the paddock at Valencia by the team's three drivers David Coulthard, Mika Hakkinen and newly recruited test driver Alexander Wurz.
Dennis added: "Every year you have to dig deep because it gets tougher year by year. The regulation changes this year gives us more work but we know we are going in the right direction. We are looking forward not backwards and we are ready for the challenge."
---

Reuters images from today's launch:

---
---