Wednesday February 7th, 2001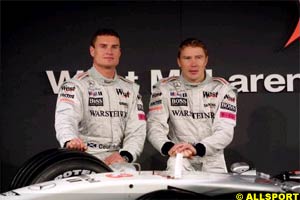 Former two-time World Champion Mika Hakkinen has admitted he feels no pressure for the upcoming season, and he confessed his motivation is strongest than ever.
Speaking at the launch of the new McLaren-Mercedes MP4-16 today at the Valencia circuit in Spain, the 32-year old Finn said the pressure is not on him because he won't have to defend his crown in 2001, after Ferrari star Michael Schumacher won the drivers' title last year.
"This year, there's no pressure on me, because I don't have to defend my title," Hakkinen said. "I'm quite relaxed at the moment. I'm comfortable with the situation and it's a great position to be in.
"Inside I feel stronger and more comfortable. I don't feel that anything that has happened to me has given me negative feelings. As I said, I feel I'm stronger than ever."
Hakkinen, who finished second in the 2000 championship and who saw his first son born last December, says losing the title he won in 1998 and 1999 has given him more motivation this year.
"It was an incredible season last year," he added. "It was a great contest and it was so tough to lose the title, but I didn't feel that I'd let anybody down and this season I feel quite different to how I felt coming into the previous two seasons.
"What happened last year gives me more motivation to fight harder and I know that our team is stronger than ever."
The Finn admitted that he had suffered a slump halfway through 2000 and had been depressed by misfortunes and a string of negative results.
"It was so difficult. First and second grands prix were disasters, the third I had a gearbox failure and didn't even finish properly," he said.
Depressed
"It was a very psychologically demanding start of the season...feeling a little depressed and sort of 'what's going on, you're fighting flat out and then you lose all the time.' It was not right.
"And then things started going better and there was a chance again.
"It was quite a sad thing not to have the number one on the car this season but then again I am quite relaxed at the moment," he said.
Hakkinen refused to get drawn into a public debate about Schumacher when asked for his reaction about recent remarks by Canadian Jacques Villeneuve.
Villeneuve, who drives for BAR, said last month he preferred to race Hakkinen because the Finn was a more normal person who behaved more correctly on the circuit than the sometimes-controversial German.
"To be honest Jacques hasn't been overtaking Michael for many years, has he?" he joked. "Maybe Michael has changed.
"I don't want to start saying negative things because we are all racers and fighters and we tend to do some things that are not always correct.
"We can't always do things absolutely perfectly. We sometimes do it because of excitement or because we get nervous and things like that."
---