Monday February 19th, 2001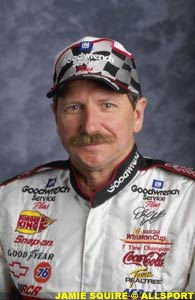 Dale Earnhardt Sr., killed in a crash on the last lap of the Daytona 500 on Sunday, dressed in black, drove a black race car and was known as "The Intimidator."
With seven Winston Cup titles he was tied with the "King" Richard Petty for most titles in the U.S. stock car series.
Even in death Earnhardt added to another of his race driving marks - he earned $194,111 for 12th place in Sunday's race to increase his NASCAR career record earnings that total more than $41 million.
The 49-year-old native of Kannapolis, North Carolina, was known for never backing down and never giving up.
Take the 1997 Daytona 500, when Earnhardt's car rolled, crushing the roof of the 3,400 pound (1,542 kg) stock car in the closing laps.
As Earnhardt was examined in an ambulance at the track, he looked out at his car and saw that it might still run. Against medical advice he jumped back into his racer and drove it until the checkered flag fell.
Just last Friday, he drove in the International Race of Champions, an exhibition race for drivers at Daytona Speedway. With two laps to go, former Formula One driver and Indy 500 winner Eddie Cheever banged into Earnhardt's car, causing it to speed into the infield grass at 185 mph (298 kph).
The car never went out of control. Eventual winner Dale Jarrett observed: "Once again, Dale Earnhardt showed that he's the greatest driver in the world. I'm still amazed that he didn't wreck that car."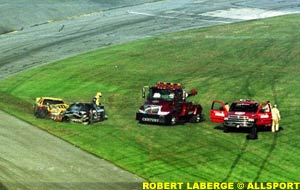 This was the stuff of Intimidator lore that cloaked the man who registered 76 victories, 22 poles, and twice was honored as Driver of the Year by U.S. journalists.
"Dale was the Michael Jordan of our sport," said H.A. "Humpy" Wheeler, president and general manager of Lowe's Motor Speedway. "We always thought of Dale as being invincible, so when he didn't climb out of that car after the wreck I knew it was bad."
Continued Wheeler: "Behind that macho facade was a real sensitive individual who did a lot of things for a lot of people and didn't want any publicity in return."
Michael Waltrip won Sunday's tragic race and gave all the credit for his success to Earnhardt, whose Chevrolet Waltrip he was driving.
"This would all be a dream if it weren't for Dale and the opportunity he gave me," said journeyman Waltrip, who hooked up with Earnhardt's race team this year and had gone 462 consecutive starts over 15 years without a win.
"I'm just so thankful for everything he's done for me."
Martinsville Speedway president Clay Campbell also issued a statement: "I feel without question he was the greatest driver we have ever had. At a time when the popularity of NASCAR has been rapidly growing across this country, we can thank Dale Earnhardt for a lot of that attention."
Earnhardt's career spanned from 1975. On Sunday, he was driving in his 676th race in NASCAR's premier circuit.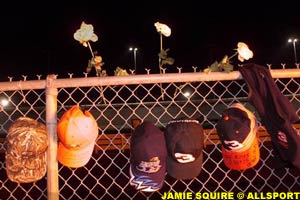 Earnhardt was the most successful driver ever at Daytona Speedway, winning 34 races including the 1998 Daytona 500. His death was the first at Daytona Speedway since the 1994 death's of Neil Bonnett and Rodney Orr.
Moments before the fatal accident, he was running in third place behind winner Waltrip and his son, Dale Earnhardt Jr, who both drove for Earnhardt's racing team.
Earnhardt himself drove for a team owned by Richard Childress.
The first 174 laps of Earnhardt's last race were a tense nose-to-tail battle for most of the 43 racers. An 18-car wreck on the backstraight turned the race into a 21-lap dash for the winner's purse of $1.3 million.
On the last lap, according to driver Rusty Wallace, Earnhardt went a bit out of control, falling to fourth behind the Dodge of Sterling Marlin.
As they reached the fourth and last turn Earnhardt fought to get back into third place but didn't properly complete the pass at speeds of 180 mph (290 kph).
Instead he was turned sideways, and was struck by the Pontiac of Ken Schrader. Both cars slammed into the outside turn four wall.
"I guess someone got into Dale because Dale got into me and we went up. We hit pretty hard, and Dale hit harder," said Schrader, who escaped injury.
---