Monday February 19th, 2001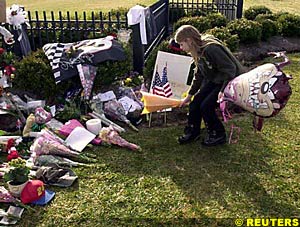 Hundreds of motor racing fans made pilgrimages on Monday to Dale Earnhardt's North Carolina racing headquarters to pay their respects to one of the sport's greatest drivers and an icon of modern stock car racing killed on the final lap of Sunday's Daytona 500.
A makeshift memorial of flowers, racing caps and shirts, and handwritten posters went up along a fence outside his racing team headquarters in Mooresville, north of Charlotte, as tributes were posted on Internet Web sites dedicated to the driver known as "The Intimidator" for his aggressive style on and off the track.
"Everyone deals with the tragedy in their own way, but the way I look at it is; when Earnhardt's life was ready to come to an end, the pearly white gates of Heaven opened up and that No. 3 Chevrolet Monte Carlo came roaring in and God helped him out of that car," race fan Michael Oberg of Jefferson, South Dakota, posted on a message board at www.DaleEarnhardt.net.
Earnhardt, 49, was killed instantly on Sunday when his car slammed into a concrete wall just as Michael Waltrip took the checkered flag marginally ahead of Earnhardt's son, Dale Earnhardt, Jr., in the opening race of the NASCAR season.
Born in nearby Kannapolis, North Carolina, Earnhardt made his NASCAR Winston Cup debut in 1975 in the World 600 at the Charlotte Motor Speedway, finishing 22nd and winning about $2,500. He went on to win more than $41 million in purses and seven Winston Cup titles, and won the Daytona 500 in 1998.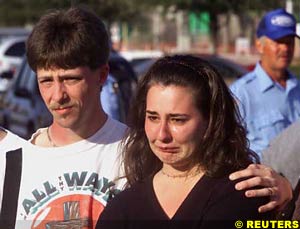 Earnhardt's aggressive driving style -- he was known to tap other racers out of the way and once drove on the grass to pass a rival -- and marketing of his trademark black No. 3 car helped propel NASCAR racing from its regional Southern roots into a national sport.
"North Carolina lost a great friend and a true competitor," North Carolina Gov. Mike Easley said in extending condolences to the Earnhardt family and racing fans.
Brain Damage the Likely Cause
Dr Steve Bohannon, head of emergency services for the race on Sunday, told a news conference that Earnhardt probably suffered severe brain damage in the crash.
"When you have a force that will fracture the base of the skull, such as this, there's also a lot of damage to the base of the brain," said Bohannon, one of the first doctors at the scene of the crash which has plunged the world of Nascar into mourning.
"The brain is soft tissue, it bruises, it bleeds, and so more than just a fracture of the base of the skull, I feel there were probably significant injuries to the base of the brain that were the cause of death."
The complete autopsy report will not released for several weeks.
The seven-time Winston Cup champion and 1998 Daytona winner hit the wall head-on at 180 mph (290 km/h). His son, Dale Jr., finished second behind Michael Waltrip.
Waltrip told the news conference that when he got to the victory lane he expected that Earnhardt Sr. would come up and give him a congratulatory hug at any moment.
"That wasn't to be. My belief is that in the twinkle of an eye, you're in the presence of the Lord, and that's where I think Dale is ... That ain't a bad thing either," Waltrip said.
Nascar president Mike Helton said that despite Earnhardt's death, the racing season would continue as scheduled with the next race on Sunday in Rockingham, North Carolina.
Asked about the cause of the crash, Helton said he could add nothing to what was apparent from the video of the race. "It was a racing accident," he said.
Bohannon said that when he got to Earnhardt's car, where rescue workers were cutting him free from the wreck, "it broke my heart what was happening."
The veteran driver was unconscious, had no pulse and was not breathing. Doctors fought for 20 minutes to get his heart beating again before giving up.
"Everything that possibly could have been done, was done for him," Bohannon said.
---