Wednesday February 28th, 2001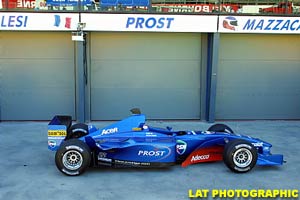 The Prost team unveiled today, at the Albert Park circuit in Melbourne, the 2001 livery of its car, the Prost Acer AP04.
The livery remains blue, with the team's new partners logos covering the car, including PSN, Acer, Adecco, Parmalat, Dark Dog, Brastemp and Michelin. These companies, some of them for the first time in Formula One, join the team's existing sponsors Catia, New Man, Altran and Sodexho.
"I feel we are finally ready to step up and achieve credible gains this year," team owner and president Alain Prost said. "In the pre-season, the team and its technical partners Ferrari and Michelin have worked very hard and their efforts have paid off. The AP04 ran on the track quite early and since its first test, it has performed well and consistently.
"Our initial focus has been on reliability and we seem to have achieved that. Our next objective is to improve upon our already good performance of the winter tests. An intense development programme has been put in place and will be carried out throughout the season. "
"I am confident," he concluded, "that Prost Grand Prix and its partners will see positive results from the very first races of the season."
Also present at the launch were Prost's drivers Jean Alesi and Gaston Mazzacane.
---