Wednesday February 28th, 2001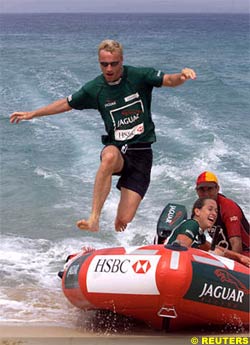 A cautious Eddie Irvine said on Wednesday he did not want to make any predictions on how his Jaguar team would fare at this weekend's season's opening Australian Grand Prix.
The Northern Irishman was last week rebuked by Jaguar boss Bobby Rahal for criticising the new cars as "too slow" and the technical team "understaffed" but was more guarded in his assessment on Wednesday.
"Our performance in testing has been ambiguous. We don't really know how fast we are," Irvine said.
"To be honest I don't really know how we are going to perform against the other teams."
Irvine, who took the checkered flag at the 1999 Australian Grand Prix behind the wheel of a Ferrari, did say it was unrealistic to think Jaguar would be among the front-runners this season.
But the 35-year-old said he did expect them to improve as the year went with a view towards 2002.
"I think this year we'll start a bit slower and gradually build," he said. "Progressing the car is the big thing we are trying to achieve this year."
Jaguar's new number two driver, Luciano Burti, has only driven in one Formula One race before, filling in for Irvine at last year's Austrian Grand Prix, finishing 11th.
The Brazilian secured a fulltime drive for the season but was coy about his prospects.
"It's my first full season so I have the chance to do a good job this year. We must do a better job than we did last year," he said.
"We really just have to find out where we are after the first race and go from there."
---