Wednesday February 28th, 2001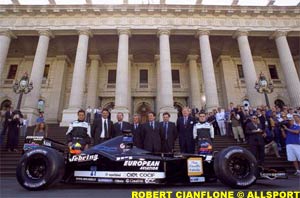 The European Minardi team unveiled today their 2001 challenger on the steps of Victoria's Parliament House in Melbourne, Australia.
The new black and white car, named PS01 after Paul Stoddart - the man who saved the team in January when he bought it from Gabrielle Rumi - was unveiled in front of Stoddart himself, team founder Giancarlo Minardi, and drivers Fernando Alonso and Tarso Marques.
The Faenza-based team ran a race against time for the last six weeks in order to complete two chassis for the season opener Australian Grand Prix, and in fact Minardi was the first team to arrive in Melbourne.
The new PS01 will be powered by the three-year old Ford V10 engine, now badged European, and the team will use Michelin tyres.
Spanish Fernando Alonso will make his Formula One debut next Sunday, while Brazilian Tarso Marques will return to Formula One after having competed in twelve Grand Prix.
---