Wednesday February 28th, 2001
By Greg Buckle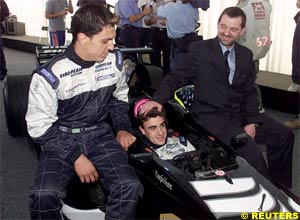 Minardi's new boss Paul Stoddart said on Wednesday that if one of his two drivers finishes the season-opening Australian Grand Prix on Sunday it will be like winning a world championship.
"For us the first race was to get the cars manufactured in six weeks and three days and to get them to Melbourne," Stoddart, an Australian-born aviation entrepreneur based in Britain, told reporters.
"And I was incredibly amazed when I found out we were the first cars that arrived in Melbourne, my home town.
"I've been to hell and back again. I personally was working 20 hours one day and 18 the next."
Stoddart, 45, head of the European Aviation Group of Companies, said his friends on other teams had called him crazy to even attempt to be ready for this weekend.
"There is no description for the hard work the guys have put in," said Stoddart, who bought the team in January.
"Apart from whoever wins on Sunday, without a doubt we will be the second most popular team in this country.
"That's the best reward the guys can get. To have one car finish on Sunday, that would be like winning the world championship."
Only a week ago the Minardi team confirmed Brazilian Tarso Marques, 25, as their second driver to partner Formula One rookie, Spanish teenager Fernando Alonso. Marques is a former Minardi driver.
Minardi have scored just one point in the past five seasons and Stoddart expects it to be just as tough this time around.
"There'll be a few teams that will be struggling to get points. If the big guys do their job this year, there aren't going to be many points left for anyone else," Stoddart said.
"Tenth or better (out of 12) in the constructors' title is more than we can expect.
"Gustav (Brunner, technical director) has done us proud with this design. There will be quite a few people looking very carefully at this car because there is quite a bit of innovation in there that people would not have thought possible in the time-scale we had."
Stoddart said his five-year plan was to "drag the team up to a midfield competitor".
A fan of local Australian Rules side Collingwood in Melbourne, Stoddart also responded to suggestions the Minardi team's black and white colours were inspired by his passion for the Australian code.
"Collingwood's my old football club. Black and white are my favourite colours. Yeah, we've got a little bit of Collingwood on there," he said.
"Obviously there will be a few other teams from around the world, Newcastle United, Juventus, that all share these colours. I just happen to like black and white."
---