Tuesday January 9th, 2001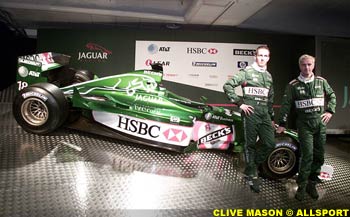 Jaguar Racing was the first Formula One team to unveil their new car for the 2001 season, in an event held at the Jaguar Cars' Research and Development base in Whiteley, England, on Tuesday.
Speaking at the launch, Jaguar Racing CEO and team principal Bobby Rahal said: "We have experienced a challenging first year in the sport but implemented changes that we feel are necessary to deliver our objectives.
"Our aim this year is to achieve respectability and to continue to put in place the building blocks that we believe will deliver success in the long term. We are unswerving in our ultimate goal which remains to challenge for World Championship honours."
Rahal, who joined the team at the end of last season, also revealed that a new major partner for the team for 2001 would be AT&T, the global communications solutions company.
The new car was unveiled by Eddie Irvine, Luciano Burti, chief designer John Russell and chief aerodynamicist Mark Handford. Responsibility for the development of the R2 during the season will be led by recently appointed technical director Steve Nichols.
The Jaguar R2, the second car produced by the Milton Keynes-based team, is an evolution of last year's chassis, which scored only four points in the championship, though the more problematic areas, such as the rear suspension ad the gearbox have been heavily revised, as new Technical Director Steve Nichols explained.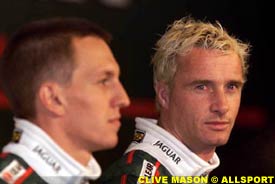 "The rear suspension on the R1 was a little unconventional, which occasionally manifested itself in driveability issues," Nichols explained. "Now it's a little more conventional to eliminate the possibility of there being a problem in that area.
"Of course it has been tested on the R1B, which has allowed us to do a fair bit of development before adopting it on the R2. We've made quite a lot of progress in regards to set-up and so on."
"I think race cars should be inherently pretty conservative," he added. "In fact, radical race cars almost never win championships. By the time a radical concept wins a championship, it has become the norm. It took the turbo engine six years before it won a championship and itís almost always like that."
Jaguar chief designer John Russell, the man responsible for the design of the R2, explained what were his thoughts when conceiving the new car.
"My policy has always been simplicity rather than engineering overkill," Russell said. "It's difficult to strike the balance between being over-adventurous and falling down and being too conservative and producing a car that's not quite competitive enough.
"However, I think it's critically important that we [Jaguar] demonstrate we are capable engineers, can manage ourselves and produce a car that's reliable and practical."
The new R2 will run at Silverstone for the first time on Wednesday.
some technical details about the new Jaguar R2:
The following are some technical details about the new Jaguar R2 Formula One car launched on Tuesday:
| | |
| --- | --- |
| Engine: | Ford Cosworth V10 CR-3 |
| Capacity: | 2,998cc |
| Cylinders: | 72-degree V10 |
| Transmission: | Magnesium-cased seven-speed gearbox, longitudinally mounted. High-pressure hydraulic system for power shift and clutch operation. |
| Wheel dimensions: | front - 12.5 x 13 inches |
| | rear - 13.4 x 13 inches |
| Tyres: | Michelin |
---

Reuters images from the launch:

---
---