Friday July 13th, 2001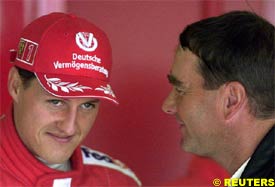 Ferrari's Michael Schumacher underlined his authority at a bright but cloudy Silverstone as he comfortably beat his McLaren rivals to top the times in the first practice session for Sunday's British Grand Prix.
Schumacher ended the initial hour 0.786 seconds ahead of his teammate Rubens Barrichello, with McLaren rivals Mika Hakkinen and David Coulthard a further one tenth of a second behind. Such was the Ferrari and McLaren dominance in the top four that their nearest rivals Jordan were some 1.6 seconds off the fastest time with Heinz-Harald Frentzen in fifth.
Eddie Irvine brightened Jaguar's hopes with sixth place, but his teammate Pedro de la Rosa's British Grand Prix weekend started badly as he stopped out on circuit with just two minutes of the session gone to end his session early. Michael Schumacher put in an early fast lap as the first one of the top runners out of the pits, and shot to the top of the times.
One of the Arrows cars trailed smoke as it headed through Copse, and Luciano Burti in the Prost slowed with what looked like a similar problem before spinning at Vale and continuing to the pits. Olivier Panis had a brief off-track excursion in his British American Racing car as he spun in the Abbey chicane but managed to keep it together and get going again.
Ralf Schumacher lost the back end of his Williams as was sent spinning as he exited Bridge corner, then Jos Verstappen spun his Arrows on the exit of Luffield. With half of the session gone it was the McLaren team who were in the ascendancy, with Mika Hakkinen top of the times and his teammate David Coulthard just 0.017 seconds behind.
But with 15 minutes to go, Michael Schumacher boosted his confidence of achieving his 51st Grand Prix win by powering to the top of the pack by almost eight tenths of a second. Juan Pablo Montoya pushed a bit too hard as he headed into Vale with ten minutes to go and had a brief spin but was able to continue, but ended the session way down the order.
Kimi Raikkonen has similar troubles before the session ended as he spun and continued at Abbey, but finished two places higher than Montoya in 10th position. Several of the drivers used the end of the session to undertake some practice starts and all got away without any problems.
Pos  Driver        Team                    Times                 
 1.  M.Schumacher  Ferrari            (B)  1:23.619  221.332 km/h
 2.  Barrichello   Ferrari            (B)  1:24.405    +    0.786
 3.  Hakkinen      Mclaren Mercedes   (B)  1:24.413    +    0.794
 4.  Coulthard     Mclaren Mercedes   (B)  1:24.430    +    0.811
 5.  Frentzen      Jordan Honda       (B)  1:25.234    +    1.615
 6.  Irvine        Jaguar Cosworth    (M)  1:25.572    +    1.953
 7.  Panis         BAR Honda          (B)  1:25.617    +    1.998
 8.  Villeneuve    BAR Honda          (B)  1:25.627    +    2.008
 9.  Trulli        Jordan Honda       (B)  1:25.908    +    2.289
10.  Raikkonen     Sauber Petronas    (B)  1:25.923    +    2.304
11.  R.Schumacher  Williams BMW       (M)  1:26.168    +    2.549
12.  Heidfeld      Sauber Petronas    (B)  1:26.324    +    2.705
13.  Montoya       Williams BMW       (M)  1:26.663    +    3.044
14.  Verstappen    Arrows Asiatech    (B)  1:26.809    +    3.190
15.  Alesi         Prost Acer         (M)  1:26.814    +    3.195
16.  Bernoldi      Arrows Asiatech    (B)  1:27.212    +    3.593
17.  Burti         Prost Acer         (M)  1:27.311    +    3.692
18.  Button        Benetton Renault   (M)  1:27.857    +    4.238
19.  Fisichella    Benetton Renault   (M)  1:28.213    +    4.594
20.  Alonso        Minardi European   (M)  1:28.541    +    4.922
21.  Marques       Minardi European   (M)  1:29.850    +    6.231
22.  de la Rosa    Jaguar Cosworth    (M)  no time

All Timing Unofficial

Published at 11:03:13 GMT
---