Saturday July 14th, 2001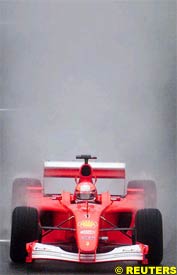 Michael Schumacher was fastest despite spinning out of a rain-hit first free practice on Saturday for the British Grand Prix.
Schumacher completed just seven laps before he went off backwards into the gravel at Brooklands. His time of 1:31.430 was inevitably nowhere near breaking any records but the German was still 0.373 seconds quicker than second-fastest compatriot Heinz-Harald Frentzen in the Jordan.
McLaren's Mika Hakkinen was third fastest in 1:31.849. Briton David Coulthard did more than twice as many laps as Schumacher but also went out onto the gravel as many drivers found the soaked track hard to handle.
The Scot, 31 points behind Schumacher in the championship but seeking his third successive win at his home track on Sunday, was fourth fastest in 1:32.014.
Canadian Jacques Villeneuve did not complete a lap, stopping his British American Racing car at the pit exit and sitting out the rest of the session.
Giancarlo Fisichella was the next spinner, when he lost his Benetton on the exit of Stowe, and Juan Pablo Montoya also had a trip across the grass at Vale. Tarso Marques too had a spin and continued at Brooklands.
Nick Heidfeld spun as he exited Woodcote to ruin a timed lap, the flying Heinz-Harald Frentzen spun at Abbey, and both Kimi Raikkonen and Coulthard had late spins as the rain came down again.
The Williams cars ran true to expected form as they struggled with the wet conditions to end the session with Ralf Schumacher in eighth and Juan Pablo Montoya down in tenth.
Pos  Driver        Team                    Times                 
 1.  M.Schumacher  Ferrari            (B)  1:31.430  202.424 km/h
 2.  Frentzen      Jordan Honda       (B)  1:31.803    +    0.373
 3.  Hakkinen      McLaren Mercedes   (B)  1:31.849    +    0.419
 4.  Coulthard     McLaren Mercedes   (B)  1:32.014    +    0.584
 5.  Barrichello   Ferrari            (B)  1:32.128    +    0.698
 6.  Heidfeld      Sauber Petronas    (B)  1:33.837    +    2.407
 7.  Trulli        Jordan Honda       (B)  1:33.879    +    2.449
 8.  R.Schumacher  Williams BMW       (M)  1:34.248    +    2.818
 9.  Panis         BAR Honda          (B)  1:34.350    +    2.920
10.  Montoya       Williams BMW       (M)  1:34.674    +    3.244
11.  de la Rosa    Jaguar Cosworth    (M)  1:35.157    +    3.727
12.  Verstappen    Arrows Asiatech    (B)  1:35.173    +    3.743
13.  Bernoldi      Arrows Asiatech    (B)  1:35.402    +    3.972
14.  Raikkonen     Sauber Petronas    (B)  1:35.490    +    4.060
15.  Fisichella    Benetton Renault   (M)  1:35.882    +    4.452
16.  Alesi         Prost Acer         (M)  1:36.193    +    4.763
17.  Button        Benetton Renault   (M)  1:37.374    +    5.944
18.  Alonso        Minardi European   (M)  1:38.748    +    7.318
19.  Burti         Prost Acer         (M)  1:39.935    +    8.505
20.  Marques       Minardi European   (M)  1:40.199    +    8.769
21.  Irvine        Jaguar Cosworth    (M)  1:43.227    + 0:11.797

All Timing Unofficial

Published at 08:51:02 GMT
---