Saturday July 14th, 2001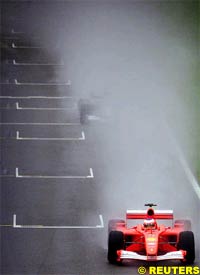 The rain continued to pour down on the Silverstone circuit to leave most drivers unable to improve on their times in the final practice session before Saturday's qualifying hour.
There was limited action on the track as the extra rain which fell between the sessions made the lap times more than four seconds slower, but teams did put in important testing to develop setups for wet conditions.
Just two minutes into the session European Minardi's Tarso Marques had a fast spin at the Abbey chicane, ended up facing backwards in the gravel, and left his stranded car to head back to the pits.
Kimi Raikkonen was lucky to miss a hare which ran across the track, and the Finn had to take avoiding action to save the little animal.
Jenson Button spun trying to make it around Stowe corner, but he was able to continue and return to the pits, while Nick Heidfeld made three full rotations as he spun exiting Bridge corner and took out a sign-board in the process.
Jacques Villeneuve's dismal day continued as he spun backwards into the gravel after posting the 15th fastest lap. This time as he headed onto Hangar Straight, and he was once again left with a wet walk back to the pits.
Luciano Burti also struggled with the conditions as he spun at Brooklands, and Raikkonen went off on his own in the fast Maggots/Becketts section of the track.
Eddie Irvine completed no laps for Jaguar in the second session, and Heidfeld stopped just before the pit lane at the end of the session.
The teams also took the chance to practice their launch control starts once again, with no problems for any of the cars, including the Benettons, which are running the system for the first time at Silverstone.
Pos  Driver        Team                    Times                 
 1.  M.Schumacher  Ferrari            (B)  1:31.430  202.424 km/h
 2.  Frentzen      Jordan Honda       (B)  1:31.803    +    0.373
 3.  Hakkinen      McLaren Mercedes   (B)  1:31.849    +    0.419
 4.  Coulthard     McLaren Mercedes   (B)  1:32.014    +    0.584
 5.  Barrichello   Ferrari            (B)  1:32.128    +    0.698
 6.  Heidfeld      Sauber Petronas    (B)  1:33.837    +    2.407
 7.  Trulli        Jordan Honda       (B)  1:33.879    +    2.449
 8.  Raikkonen     Sauber Petronas    (B)  1:34.069    +    2.639
 9.  Panis         BAR Honda          (B)  1:34.097    +    2.667
10.  R.Schumacher  Williams BMW       (M)  1:34.248    +    2.818
11.  Montoya       Williams BMW       (M)  1:34.674    +    3.244
12.  de la Rosa    Jaguar Cosworth    (M)  1:35.157    +    3.727
13.  Verstappen    Arrows Asiatech    (B)  1:35.173    +    3.743
14.  Bernoldi      Arrows Asiatech    (B)  1:35.402    +    3.972
15.  Fisichella    Benetton Renault   (M)  1:35.624    +    4.194
16.  Villeneuve    BAR Honda          (B)  1:35.690    +    4.260
17.  Button        Benetton Renault   (M)  1:35.974    +    4.544
18.  Alesi         Prost Acer         (M)  1:36.193    +    4.763
19.  Burti         Prost Acer         (M)  1:37.203    +    5.773
20.  Alonso        Minardi European   (M)  1:38.748    +    7.318
21.  Marques       Minardi European   (M)  1:40.199    +    8.769
22.  Irvine        Jaguar Cosworth    (M)  1:43.227    +   11.797

All Timing Unofficial

Published at 10:04:27 GMT
---