Sunday July 15th, 2001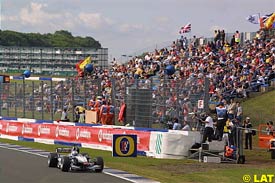 David Coulthard, in a McLaren Mercedes-Benz, topped the times in Sunday morning's warm-up for the British Grand Prix when he clocked a best time of 1:22.994 ahead of Italian Jarno Trulli in a Jordan-Honda.
The Briton, chasing his third successive victory in the British race at Silverstone, was in determined mood on a dry and partly-sunlit morning at the old Northamptonshire circuit where the improved conditions were a welcome change after two days of cold and wet weather.
The air temperature was only 13 degrees Celsius and the track temperature 16 degrees as the session unfolded with German Heinz-Harald Frentzen setting the early pace in his Jordan before the McLarens made their impression on the action.
Finn Mika Hakkinen moved to the top of the times midway through the session before Coulthard, fired up by his home crowd, pushed his way ahead in the closing minutes. Coulthard topped the times with an advantage of 0.188 seconds ahead of Trulli with Hakkinen third ahead of Frentzen.
Michael Schumacher, seeking only his second victory at Silverstone and starting the race on pole for the first time in pursuit of his record-equalling 51st career victory, was fifth in his Ferrari ahead of Frenchman Olivier Panis in a BAR-Honda, Finn Kim Raikkonen in a Sauber and Ralf Schumacher in a Williams-BMW.
The only incident in the session came after 10 minutes when German Nick Heidfeld, in the second Sauber, spun off at Stowe corner.
Pos  Driver        Team                    Times                 
 1.  Coulthard     Mclaren Mercedes   (B)  1:22.994  222.999 km/h
 2.  Trulli        Jordan Honda       (B)  1:23.182    +    0.188
 3.  Hakkinen      Mclaren Mercedes   (B)  1:23.416    +    0.422
 4.  Frentzen      Jordan Honda       (B)  1:24.052    +    1.058
 5.  M.Schumacher  Ferrari            (B)  1:24.407    +    1.413
 6.  Panis         BAR Honda          (B)  1:24.598    +    1.604
 7.  Raikkonen     Sauber Petronas    (B)  1:24.609    +    1.615
 8.  R.Schumacher  Williams BMW       (M)  1:24.631    +    1.637
 9.  Barrichello   Ferrari            (B)  1:24.657    +    1.663
10.  Irvine        Jaguar Cosworth    (M)  1:25.147    +    2.153
11.  Villeneuve    BAR Honda          (B)  1:25.217    +    2.223
12.  Montoya       Williams BMW       (M)  1:25.260    +    2.266
13.  Verstappen    Arrows Asiatech    (B)  1:25.581    +    2.587
14.  Bernoldi      Arrows Asiatech    (B)  1:25.658    +    2.664
15.  Heidfeld      Sauber Petronas    (B)  1:25.734    +    2.740
16.  de la Rosa    Jaguar Cosworth    (M)  1:26.463    +    3.469
17.  Alonso        Minardi European   (M)  1:26.988    +    3.994
18.  Fisichella    Benetton Renault   (M)  1:27.198    +    4.204
19.  Button        Benetton Renault   (M)  1:27.987    +    4.993
20.  Alesi         Prost Acer         (M)  1:28.060    +    5.066
21.  Burti         Prost Acer         (M)  1:28.240    +    5.246

All Timing Unofficial

Published at 10:11:26 GMT
---