Friday July 27th, 2001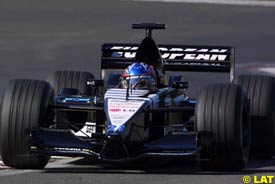 Minardi's Fernando Alonso was pleased with the new PS01B chassis introduced by the small Italian outfit for the German Grand Prix.
The Faenza-based team presented a new spec of their PS01, and is expected to introduce some aerodynamic developments like a new diffuser, new sidepods, and a new engine cover at the high speed Hockenheim track.
Though the team chose not to use the new titanium gearbox in the afternoon session, Alonso admitted he had already noticed the improvements.
"Today's outcome looks fine to me," said Alonso. "In the morning session, we tested the new gearbox, which we introduced last week at the Monza test. The development work carried out immediately after the test on this new unit is already proving to be effective.
"It is brand new, and there is still a lot of work to do to optimise its performance. In the afternoon, we reverted to the previous version of the gearbox. We continued the set-up work we started in the morning and also compared the two tyres compounds at our disposal."
Alonso was 21st fastest in today's practice, only ahead of Brazilian teammate Tarso Marques.
Published at 16:29:24 GMT
---