Friday June 1st, 2001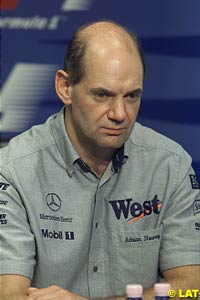 Jaguar Racing have announced today that Adrian Newey will join the Formula One team as chief technical officer. Newey, one of the highest regarded designers in Formula One, will join the Milton Keynes team in August 2002.
"I'm thrilled at the prospect of having Adrian on board in what promises to be a very exciting period for Jaguar in Formula One," Jaguar team manager Bobby Rahal said in a statement today. "We go back many years to our days together in Indy Cars and our friendship has certainly played a key role in making this happen.
"Design teams led by Adrian have created six of the Formula One cars that have won the Constructors' and the Drivers' World Championship in the last nine years with an average win rate of 50 per cent.
"His influence has dominated the last decade of the first century of motor racing and this new chapter with Jaguar Racing will provide Adrian with an opportunity to take one of the most emotive names in motor racing to the status of Formula One World Champions."
"This is great news for Jaguar Racing and we are obviously delighted at pulling off something of this magnitude," said Niki Lauda, chairman of Jaguar's motor racing division. "We have always been deadly serious about our F1 ambitions and this goes quite some way to proving our commitment to winning."
Newey himself decided to leave McLaren, his current team, after taking what he calls a hard decision. "This has not been an easy decision for me to make," Newey said. "I have enjoyed hugely my four years to date at McLaren and take great satisfaction from the success that we as a team have achieved.
"Moreover, this success has been combined with forming many lasting friendships within the team especially with Ron Dennis and Martin Whitmarsh. But, in the end, the prospect of working once again with my close friend Bobby, whom I have known since 1984 at March Racing, combined with the prospect of the exciting challenge that Jaguar Racing offers, proved irresistible."
Newey is reportedly going to earn £5 million ($7.2 million a year) at Jaguar -- more than twice as much as he is currently earning at McLaren. He has been linked to Jaguar since Rahal, one of his closest friends, was signed as chief operating officer of the team, and Newey himself has been a Jaguar fan, racing vintage Jaguars as a hobby (see Woking Man Bitten By Cat, published on Atlas F1 in September 1999.)
McLaren have been negotiating with Newey for the past few months, in the hope of re-signing the talented aerodynamicist beyond August 2002, when his 5-year contract expires. However, when it became obvious to both sides that Newey does not wish to stay with McLaren beyond his current contract, McLaren were in effect forced to relieve Newey.
McLaren have yet to make an official announcement, and it is still unknown whether Newey will continue to work with McLaren on the 2002 car, or whether will be forced to take a lengthy 'cooling-off' period between his two jobs.
---