Friday June 8th, 2001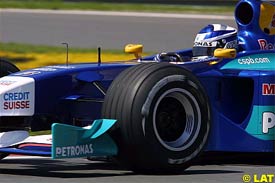 German driver Nick Heidfeld helped his Sauber team show an improved performance in today's practice session for the Canadian Grand Prix, the eighth round of the 2001 Championship.
After a strong start of the year, the Swiss team's performance dropped in the last two races in Austria and Monaco, but Heidfeld set a promising seventh quickest time today at the Gilles Villeneuve circuit. The young German endured a trouble-free session and was happy with his result as well as with his car's handling.
"I'm quite happy today," said Heidfeld. "I had no technical problems and most of the things that we did to the car made it better and gave us an indication of where to go next. The new hydraulic differential is working well, and enables us to make fast adjustments.
"We worked hard on traction and it was okay; it's one of the keys for the race here. I'm pleased with P7, especially as the cars ahead are only tenths quicker."
Teammate Kimi Raikkonen, driving at the Canadian track for the first time today, could not equal Heidfeld's performance and posted the 13th fastest time, the young Finn complaining about lack of traction.
"I don't know what the problem was with my car today, but I wasn't happy with the traction," Raikkonen said. "The team is looking at the data now so that we can improve things for tomorrow."
---