Friday June 8th, 2001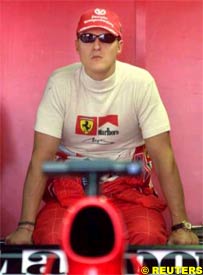 Championship leader Michael Schumacher remained calm after today's practice session for the Canadian Grand Prix despite ending the day in a distant eleventh place nearly 1.5 seconds behind McLaren's Mika Hakkinen, who was fastest on Friday.
Schumacher, who leads David Coulthard by twelve points in the standings, saw his scheduled programme delayed due to a mechanical change to his car during the afternoon session, but the German admitted he was not concerned by the gap between his Ferrari and the two McLarens.
"At the start of the second half of the session, we decided to make a change to the car which took longer than expected," explained Schumacher. "That is why I did not do so many laps in the second hour. In any case we managed to get though our planned programme. We worked a lot on the brakes, which are put under a lot of stress at this track.
"I am not worried about qualifying as the difference in lap times between mine and those of my main rivals does not reflect the true situation."
Brazilian Rubens Barrichello was more than half a second quicker than his world champion teammate, as he made his way to fourth place behind the two McLarens and Eddie Irvine's Jaguar.
"It was the usual sort of Friday," Barrichello said. "The track is always dirty on the first day here. We concentrated on the race, especially on brakes and tyres. I'm feeling pretty relaxed as the car is going quite well and we improved it during the session. We still have some work to do on the set-up, but overall I am happy with the day's work."
---