Friday June 8th, 2001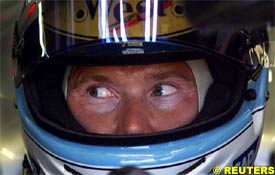 Mika Hakkinen smashed the Gilles Villeneuve circuit's record on Friday to top the timesheets on the first day of practice for the Canadian Grand Prix, making the perfect start to return to winning form.
Hakkinen's was the fastest lap yet recorded at the circuit, easily demolishing Michael Schumacher's 2000 pole time for Ferrari of 1:18.439 and the race lap record set by Hakkinen last year of 1:19.049.
The Finn, who has not won a race since August last year, was happy with his day's work, but admitted the time difference was not significant.
"We went through a lot of work including a positive tyre evaluation programme," said Hakkinen. "We achieved a fine balance and if we can maintain this for tomorrow, we should be looking good. However its difficult to compare your performance relatively to the opposition because of the different fuel loads and tyre compounds."
David Coulthard, who was fastest in the first session for McLaren, ended the day behind his Finnish teammate. The Scot, second in the championship twelve points behind Ferrari's world champion Michael Schumacher, admitted he had no problems with the launch control system, which he is determined to use during the race despite having stalled twice this season.
"We were working on finding the optimum set up and also managed a few practice starts using the launch control, and everything worked well," said Coulthard. "We are definitely heading in the right direction, but the grip level is always changing on this track, you probably get the best grip during the last lap of the race.
"I think we went a bit too far set-up wise towards the end of the session but all in all, a reasonable day and I'm looking forward to qualifying."
---