Friday June 8th, 2001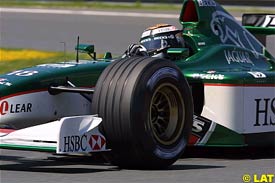 Ulsterman Eddie Irvine was not completely satisfied with his Jaguar's handling despite setting an impressive third quickest time on Friday as he continued with the promising form showed at the Monaco Grand Prix.
Irvine scored at Monaco the Milton Keynes teams's first ever podium taking full advantage of a new aerodynamic package, which seemed to have made a big difference in the car's performance, as the Irishman showed today at the Canadian Grand Prix, finishing right behind the two McLarens.
However, Irvine admitted the car did not work as he was expecting.
"The car didn't feel as good as I expected it to around here but overall I'd say we are in good shape," said Irvine. "There are some new bits on the car and I don't at this stage know exactly what impact they are having. We are still evaluating these changes and will continue to do so in the run-up to qualifying tomorrow."
Irvine's form could not be equalled by his Spanish teammate Pedro de la Rosa, who was only 14th fastest despite completing the same number of laps as the Northern Irishman. De la Rosa, enduring a torrid time since he joined the team at the Spanish Grand Prix, was happy with his session.
"It was a good session until the end," said de la Rosa. "The only bad thing I would say is that we couldn't have a proper run with new tyres because the session ended. They took them out too late, so I had to come into the pits. That was the only problem, but on old tyres the car was looking quite good."
---