Friday June 8th, 2001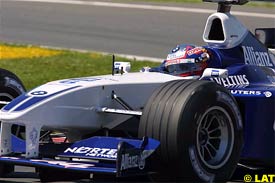 German Ralf Schumacher expects a very close qualifying session for the Canadian Grand Prix after posting the sixth fastest time with his BMW-Williams in today's practice at the Gilles Villeneuve circuit.
Schumacher, tipped to be one of the favourites to win Sunday's race thanks to the straigthline speed of his Williams, was pleased with the way his session went, and despite ending 1.2 seconds behind Mika Hakkinen, the German expects an exciting qualifying tomorrow.
"We completed our programme with no problems and are happy so far," the German said. "In terms of the car's set-up we still have some improvements to make, but I am sure we will be ready for qualifying. It will be very close and I am guessing that the first five will be divided by three or four tenths."
Schumacher was outpaced by his rookie teammate Juan Pablo Montoya, driving at the Montreal circuit for the first time, the Colombian enjoying the session on his way to fifth place.
"It was a pretty good day as we did quite a lot of work," Montoya said. "We kept out of trouble, which I think is quite important. We worked to set-up the car and make it better for the race, and I think we did quite a lot of improvements.
"The track is pretty interesting. It is quite technical in the way you have to be very precise where you put the car on the track. You have got to be very gentle with the car - it is quite good fun!"
---