Friday June 8th, 2001
By Alan Baldwin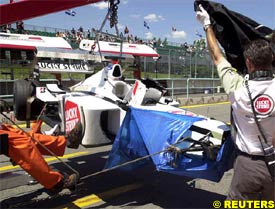 Jacques Villeneuve accused Colombian Formula One newcomer Juan Pablo Montoya of being on a mission to obstruct on Friday and said he needed talking to.
Villeneuve crashed in opening practice for Sunday's Canadian Grand Prix and he confirmed afterwards that his BAR and Montoya's Williams had touched shortly before the accident and after the Colombian had blocked him.
"Juan Pablo ran into the back of me a couple of laps before the crash," said the Canadian former world champion. Asked whether he thought that had any effect on what happened later, he replied tersely "who knows."
Under further questioning Villeneuve admitted he was angry with a driver whose path into Formula One mirrors his own. Both drivers were CART champions before entering Formula One with Williams, Villeneuve's team before BAR.
"I am upset." said Villeneuve. "He's on a mission for something and I'll have to have a word with him. Normally when you get blocked, where I've blocked some people also, usually you try to get out of the way. Sometimes you don't make it, but you still make an effort to try and give some room to the other person.
"It seems like Juan Pablo, every time he sees someone in the mirror he slows down and stays on the line purposely. So I really don't understand what game he's trying to play."
Austrian Anger
It is not the first time this season that Montoya has been accused of blocking a rival on the track. In Austria, where he started on the front row of the grid with Ferrari's Michael Schumacher, he led and held his line as the German tried to overtake on the outside.
Montoya then locked his brakes and, with Schumacher forced to follow the Williams to avoid a collision, both cars almost came to a halt as others went past. Schumacher accused the Colombian of failing to look where he was going but, after watching video footage, later played down what had happened as a normal race incident. Montoya's reaction to Schumacher's words in Austria was straightforward and unrepentant.
"I'm racing, so I'm not going to let others by," he said at the time. "If they can't get by me, then they should get out."
Villeneuve was unable to take part in the second practice session on Friday as mechanics had to rebuild his car. The Canadian was unhurt in the crash, which ripped the right front wheel off his car as he ploughed into the wall, and he was unable to find a clear reason for it either.
"It looks like something failed on the car but it's very difficult to know because then I hit the wall so other things broke when I hit the wall, so it's very hard to know what happened," he said.
"I was actually at the point where I was deciding to brake. I just came off the throttle and turned into the wall."
---