Friday June 8th, 2001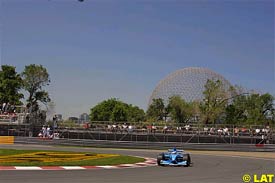 After enjoying huge success in the Montreal races in the past, Italian Giancarlo Fisichella has resigned himself to a more disappointing run this year.
The Benetton star was upbeat after Friday practice for the Canadian Grand Prix and although he finished the day in 15th place he is confident an improvement will come for Saturday's qualifying session.
"I think this weekend is going to be good, but I don't think it's going to be as good as in the past," he said. "I was on the podium here for the last four years, but I think it's going to be very difficult to do the same this year.
"We need a lot of power here and we haven't got a lot of power at the moment. The car is getting better but tomorrow it's going to be difficult to be in the first six or seven rows."
Fisichella was 2.4 seconds faster than his struggling teammate Jenson Button who suffered problems with a lack of straight-line speed.
---