Friday June 8th, 2001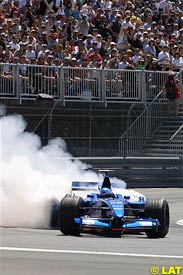 Frenchman Jean Alesi put a strong performance in Friday's practice for the Canadian Grand Prix, finishing the day in twelfth position but less than three tenths of a second behind sixth place man Ralf Schumacher.
However, the veteran Prost driver, who finished in the points for the first time after more than a year at the Monaco Grand Prix two weeks ago, claimed his team needed to work harder in order to endure a better qualifying on Saturday.
"We have tried to run as much as possible today in order to understand how the car reacts to this track," said Alesi. "On my side, I have concentrated mainly on setups and tyre tests. We have now to work hard to be able to be more competitive in tomorrow's qualifying."
Teammate Luciano Burti, on his first visit to the Gilles Villeneuve track, was also hoping for a better qualifying after a difficult start of his Canadian Grand Prix. The Brazilian was unable to match Alesi's pace, and ended in 18th place more than two seconds behind the Frenchman.
"I have never raced on this track before so today, my objective was to run as much as possible to get acquainted to the circuit," Burti commented. "As expected, the track is very dirty and slippery, changing very quickly. The car has improved throughout the two sessions, and we have tried such a lot of different options today that I am confident we have everything in hand to get the best possible setup for tomorrow's qualifying."
---