Friday June 8th, 2001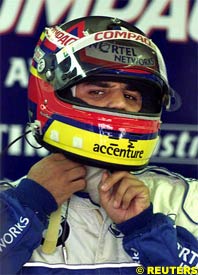 Juan Pablo Montoya has claimed that the contact between his Williams-BMW and the BAR-Honda of Jacques Villeneuve happened when the Canadian former world champion brake tested him.
Speaking after finishing fifth in the opening day of practice for Sunday's race Montoya said: "He brake tested me and I ran into the back of him. There was a blue flag and he got upset that I should have moved over earlier, but I saw the blue flag, looked in my mirrors and saw him, so I moved off the line.
"Then when we got to the next chicane, I was behind him and on the exit and he stood on the brakes, but I don't think I hit him really hard."
Earlier, Villeneuve had accused the Colombian of being "on a mission" to obstruct him and stated that he would have to have a word with him about his conduct.
It is not the first time these two drivers have clashed on the track. During qualifying for the season opening race in Australia the two cars touched. "In Australia I blocked him a little bit and he hit my car," admitted Montoya. "It wasn't anything major and afterwards I went to him and apologised.
"If you are on a qualifying lap it is understandable (to get angry), but during practice a lot of people block you and you either slow down or just go into the pits"
---