Saturday June 9th, 2001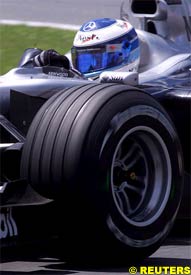 Underachieving Mika Hakkinen displayed his dominance in Canada after he topped the times in the first practice session in Montreal outpacing teammate David Coulthard.
Hakkinen was just five hundredths of a second faster than the Scot as they both outpaced Ferrari duo Michael Schumacher in third and Rubens Barrichello in fourth.
Williams driver Ralf Schumacher was fifth fastest although teammate Juan Pablo Montoya suffered a disappointing session finishing 17th and suffered engine problems.
Eddie Irvine continued to impress at Montreal when he finished sixth and Jaguar return to form continued as Pedro de la Rosa ended the session in eight.
Jacques Villeneuve failed to post a competitive time completing only one lap before having trouble with his British American Racing car.
Pos  Driver        Team                    Times                 
 1.  Hakkinen      Mclaren Mercedes   (B)  1:16.828  207.159 km/h
 2.  Coulthard     Mclaren Mercedes   (B)  1:16.875    +    0.047
 3.  M.Schumacher  Ferrari            (B)  1:16.913    +    0.085
 4.  Barrichello   Ferrari            (B)  1:17.441    +    0.613
 5.  R.Schumacher  Williams BMW       (M)  1:17.777    +    0.949
 6.  Irvine        Jaguar Cosworth    (M)  1:18.019    +    1.191
 7.  Heidfeld      Sauber Petronas    (B)  1:18.268    +    1.440
 8.  de la Rosa    Jaguar Cosworth    (M)  1:18.359    +    1.531
 9.  Raikkonen     Sauber Petronas    (B)  1:18.393    +    1.565
10.  Panis         BAR Honda          (B)  1:18.407    +    1.579
11.  Trulli        Jordan Honda       (B)  1:18.575    +    1.747
12.  Alesi         Prost Acer         (M)  1:18.935    +    2.107
13.  Zonta         Jordan Honda       (B)  1:19.141    +    2.313
14.  Fisichella    Benetton Renault   (M)  1:19.347    +    2.519
15.  Bernoldi      Arrows Asiatech    (B)  1:19.561    +    2.733
16.  Verstappen    Arrows Asiatech    (B)  1:19.757    +    2.929
17.  Montoya       Williams BMW       (M)  1:19.811    +    2.983
18.  Burti         Prost Acer         (M)  1:19.903    +    3.075
19.  Button        Benetton Renault   (M)  1:20.403    +    3.575
20.  Alonso        Minardi European   (M)  1:20.549    +    3.721
21.  Marques       Minardi European   (M)  1:21.067    +    4.239
22.  Villeneuve    BAR Honda          (B)  no time

All Timing Unofficial

---