Saturday June 9th, 2001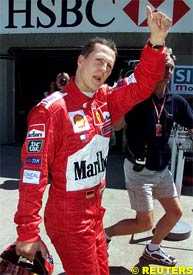 Michael Schumacher on Saturday claimed pole position for Sunday's Canadian Grand Prix in his Ferrari in a qualifying session that was stopped twice after similar crashes.
Before Schumacher took his sixth pole of the season, his teammate Rubens Barrichello and Sauber's Nick Heidfeld both caused the session to be red-flagged as they smashed their cars into the wall in separate incidents at the chicane at the Circuit Gilles Villeneuve.
But nothing could halt the impressive Schumacher's charge and he finished the day more than half a second faster than his nearest rival, brother Ralf, to make it the second ever family front row.
David Coulthard salvaged some satisfaction after a disappointing drop in form from McLaren saw the pace of previous practice sessions overhauled by other teams to leave the Scot third, and his struggling and disheartened teammate Mika Hakkinen eighth.
Jarno Trulli was a delighted fourth, just one hundredth of a second faster than Ferrari's Rubens Barrichello, while Olivier Panis was the best of the British American Racing drivers in sixth.
But Panis' teammate Jacques Villeneuve, who has been the centre of attention after a reported clash with Williams' Juan Pablo Montoya will start alongside his rival on the fifth row.
Kimi Raikkonen gave Sauber some relief after Heidfeld's crash by posting the seventh fastest time, while the Jaguars failed to show their early promise and Pedro de la Rosa qualified in 14th, one place ahead of his teammate Eddie Irvine.
Pos  Driver        Team                    Times                 
 1.  M.Schumacher  Ferrari            (B)  1:15.782  210.018 km/h
 2.  R.Schumacher  Williams BMW       (M)  1:16.297    +    0.515
 3.  Coulthard     Mclaren Mercedes   (B)  1:16.423    +    0.641
 4.  Trulli        Jordan Honda       (B)  1:16.459    +    0.677
 5.  Barrichello   Ferrari            (B)  1:16.760    +    0.978
 6.  Panis         BAR Honda          (B)  1:16.771    +    0.989
 7.  Raikkonen     Sauber Petronas    (B)  1:16.875    +    1.093
 8.  Hakkinen      Mclaren Mercedes   (B)  1:16.979    +    1.197
 9.  Villeneuve    BAR Honda          (B)  1:17.035    +    1.253
10.  Montoya       Williams BMW       (M)  1:17.123    +    1.341
11.  Heidfeld      Sauber Petronas    (B)  1:17.165    +    1.383
12.  Zonta         Jordan Honda       (B)  1:17.328    +    1.546
13.  Verstappen    Arrows Asiatech    (B)  1:17.903    +    2.121
14.  de la Rosa    Jaguar Cosworth    (M)  1:18.015    +    2.233
15.  Irvine        Jaguar Cosworth    (M)  1:18.016    +    2.234
16.  Alesi         Prost Acer         (M)  1:18.178    +    2.396
17.  Bernoldi      Arrows Asiatech    (B)  1:18.575    +    2.793
18.  Fisichella    Benetton Renault   (M)  1:18.622    +    2.840
19.  Burti         Prost Acer         (M)  1:18.753    +    2.971
20.  Button        Benetton Renault   (M)  1:19.033    +    3.251
21.  Alonso        Minardi European   (M)  1:19.454    +    3.672
22.  Marques       Minardi European   (M)  1:20.690    +    4.908

All Timing Unofficial

---