Saturday June 9th, 2001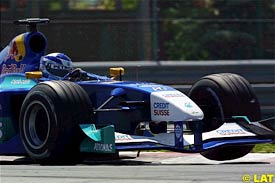 An impressive Kimi Raikkonen drove to his best ever qualifying performance on Saturday, as he posted the seventh fastest time for the grid of the Canadian Grand Prix.
21-year old Raikkonen, who drove at the Gilles Villeneuve circuit for the first time on Friday, put a brilliant performance with the Petronas-powered Sauber C20 to continue with the Swiss team's strong performance in the eighth round of the championship.
The young Finn admitted his car worked perfectly today, though he added he could have ended higher up the grid if not for a mistake on his final attempt.
"My car was great today," said Raikkonen. "Yesterday we had a lot of little problems, with the set-up on the differential and traction control, and with the brakes, but everything came right today and the balance and traction were fine.
"On my best lap I lost a bit of time over the kerb in the last corner. I had a couple of close shaves there yesterday. When you are launched too high you can't steer in the air, but I got away with it although on one occasion I just missed the wall by a millimeter! Today there was no risk of that, but I lost a bit of traction there. Without that I think I could have been sixth."
Nick Heidfeld was not as lucky as his teammate and with less than two minutes remaining, the German crashed heavily against the wall during his final run, causing the session to be red-flagged. Heidfeld, who walked away uninjured, was disappointed after qualifying in eleventh position.
"The car was really well balanced this morning and we had made only minor adjustments for qualifying," said Heidfeld. "Unfortunately you have to push hard over the kerb in the last corner, and your landing position depends on luck. I got launched too high to be able to do anything about correcting the car, and I went into the wall.
"I lost time at the beginning of the lap behind Alesi, so I was trying to make it up. I'm okay, but disappointed not to start higher than 11th where the car belongs."
---