Saturday June 9th, 2001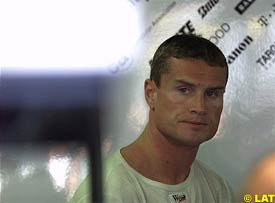 The McLaren team endured another disappointing qualifying session on Saturday with David Coulthard missing the front row of the grid after finishing third and Mika Hakkinen setting a poor eighth fastest time for Sunday's Canadian Grand Prix.
Coulthard, winner of the Brazilian and Austrian Grands Prix this season, was unable to stop the Schumacher brothers, Michael and Ralf, from occupying the front row the grid ahead of tomorrow's race. The Scot driver was clearly disappointed after qualifying, but hoped for a strong result on Sunday.
"I'm not happy with qualifying third, as the car was capable of more," claimed Coulthard, who is second in the championship twelve points behind pole setter Schumacher. "However I didn't manage to get things right and explore the limits of the car.
"In the circumstances, I guess we have to be happy. I'm confident that we have a good car for the race, but that said I should have been able to start from the front row."
Mika Hakkinen, meanwhile, continued with his miserable season after damaging his car during today's session when he overshot the final chicane of the track. The Finn, who has scored only four points in seven races this year, was forced to take the spare car, which was set for Coulthard, and ended the day in a distant fourth row.
"It's clear from the sector times that my first run started quite well," said Hakkinen. "However I ran a little wide and hit one of new higher kerbs hard and damaged the front of my car as well as the right radiator.
"I had to change to the spare car, which was set up for David and was unable to improve my time. Now we will work hard to get the best out of the car for tomorrow which I'm sure we will."
---