Saturday June 9th, 2001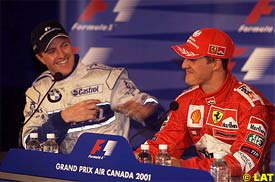 Michael Schumacher took his sixth pole position of the season in today's qualifying for the Canadian Grand Prix, and spent the last minutes of the session watching their rivals trying to get close to his time.
Schumacher, who will start tomorrow's race alongside his brother Ralf for the second time this season, sat out the final minutes watching with amused interest.
"I knew it would have been a mess to go out there and as you saw it was a mess so I sat back and watched it. It was much more interesting to watch it," he said. "You can never be sure that nobody will beat your time, but when I saw that Ralf was stopped at the weigh-in, I knew it would be difficult for the others."
The Ferrari driver, leading the championship by twelve points over McLaren's David Coulthard, was more than half a second quicker than his brother's Williams, and the German admitted he was surprised with his advantage.
"I am surprised at the margin I have over the others, but I am not surprised that the lap times are much quicker than last year," Schumacher added. "As for the race, the car is as good as it can be in race trim: it can never be perfect. This is a track which improves all the time over the weekend, so in the warm-up tomorrow morning we hope to make further improvements."
Teammate Rubens Barrichello was fifth fastest today after a difficult session. The Brazilian suffered a heavy accident which forced qualifying to be stopped for a couple of minutes and had to use the spare car, which was set up for Schumacher.
"This was not one of my best days," said Barrichello. "On my first run I had traffic, while on the second, I finished up in the wall at the last chicane having jumped over the kerb. I think I went a bit over the limit. I ran back to the pits and jumped into the spare, which had been set up for Michael.
"Despite the fact the mechanics did a great job, the set up wasn't ideal for me and there was no time to change it. In the end, I did not have time to change tyres before my fourth and final run and so I was unable to improve and get a better position. I think it will be a very open race tomorrow."
---