Saturday June 9th, 2001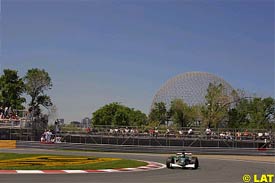 Both Jaguar drivers were disappointed after proving that they were right in their cautious approach to praising the improvements which gained the team a first podium at the Monaco Grand Prix in the last race.
Eddie Irvine finished a disappointing 15th fastest after qualifying for Sunday's Canadian Grand Prix but supported his team and the major aerodynamic improvements that they have introduced.
The Ulsterman claimed the developments were "the biggest step I have ever seen in Formula One" before they were introduced, but has now called for the team to look into why their wind tunnel figures, upon which that statement was based, have not translated to the track.
"We need to examine the reasons for our lack of pace and look at ways of rectifying this before Magny Cours," he said, but added: "It would be unfair at this stage to write off the new aerodynamic package, particularly as it has been working so well in testing.
"We have always done a better job in race trim anyway," he continued. "And assuming we can stay out of harms way tomorrow, there is still a slim chance of salvaging something from this race."
However, Irvine, who finished right behind his teammate Pedro de la Rosa, is concerned about his tyre performance and after hinting at their problems in the aftermath of Friday's practice session, he emphasised that the Michelin squad have not got their act together in Canada.
"The Michelin tyres have a lot of work to do here against the Bridgestones," said a concerned Irvine. "I hope they perform better in race trim."
---