Saturday June 9th, 2001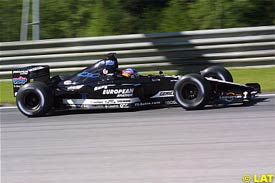 Fernando Alonso's qualifying times were disallowed on Saturday after a front wing dimensional infringement during today's session for the Canadian Grand Prix.
Spaniard Alonso, who had qualified in 21st position in front of his Brazilian teammate Tarso Marques, will be forced to start from last place of the grid following the infringement.
The 19-year old Minardi driver admitted the penalty did not make much difference, but was still disappointed.
"Now I learn I have been disqualified, as the front wing of the car was found not to be in compliance with the regulations, and will have to start from last place on the grid," said Alonso. "I know it doesn't make a big difference, but I have still lost a position."
---