Saturday June 9th, 2001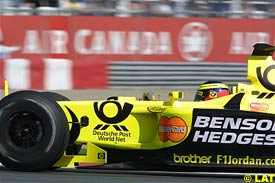 Brazilian Ricardo Zonta was pleased after qualifying twelfth for Sunday's Canadian Grand Prix in his return to racing after more than six months as test driver.
Zonta replaced Heinz-Harald Frentzen at the Jordan team after the German felt unwell as a consequence of his heavy crash at the Monaco Grand Prix two weeks ago, and after missing Friday's practice session, the Brazilian was happy with his progress.
"Given the little practice time I have had this weekend, twelfth position is not bad," said Zonta. "I was gaining confidence with each run and improving my times. On the last run, I tried to push even harder but, unfortunately, I made a mistake at the first corner and lost my chance to improve further.
"The car feels good and is suited to this track. As my confidence grows, I know I can get more out of the car, and I have a good potential to finish well in tomorrow's race."
Italian Jarno Trulli was frustrated despite a strong performance which allowed him to share the second row of the grid with McLaren's David Coulthard. The race marshals stopped Trulli from completing his final attempt and the Italian was unhappy about their decision afterwards.
"I'm upset because the marshals stopped me," said Trulli. "It was wrong because the session had not finished. Being held up like that meant I couldn't do a final timed lap. But I'm very happy with the first half of qualifying as the car was well balanced.
"For the last run, we made some alterations to improve the car even further and I was really looking forward to my last run. I felt confident about my chances of getting onto the front row. It's very frustrating.'
---