Saturday June 9th, 2001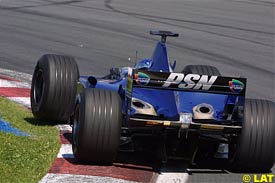 An understeering car and a red flag frustrated Jean Alesi attempt to improve on a poor performance in today's qualifying for the Canadian Grand Prix.
The veteran Prost driver, who received a boost of morale at the Monaco Grand Prix two weeks ago after finishing in the points for the first time in more than a year, qualified sixteenth, complaining about his AP04's handling. Alesi saw then how the session was red-flagged during his final attempt, stopping him from moving up the grid.
"Since this morning, I have been fighting with a power understeering car, and unfortunately, a red flag was waved during my last qualifying lap which caused me to lose the benefit of my last set of tyres. Had I been able to push to the end, for sure, I would have been several places up on the grid."
Teammate Luciano Burti continued with his difficult season with the French team, the Brazilian being unable to find the right set up for his car, ending the session in a disappointing 18th position.
"It was a difficult day," said Burti. "We have tried many things to improve the car and we managed to do it to a certain extent, but we have not been able to optimise its handling with only set-up modifications. I found the car more and more difficult to drive.
"I think that on this track, I could not have been much faster than what I did. It is a pity for Jean because I know he would have been faster, but as for my position, we were pretty much at the limit."
---