Sunday June 10th, 2001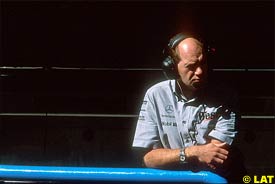 McLaren's technical director Adrian Newey has finally broken his silence, after being at the center of one of the biggest controversies Formula One has known in the past few years.
The Jaguar team announced earlier this week that Newey had agreed to join them when his current contract with McLaren expired next year, only hours before the team from Woking claimed he was staying until 2005. Jaguar have since threatened to sue McLaren, claiming Newey had already signed a binding contract.
The legal battle between Jaguar and McLaren over the top Formula One designer looks set to rumble on for months, but Newey admitted his main concern is the effect the case will have in his close friendship with Jaguar boss Bobby Rahal.
"One of the reasons I made this decision was because I was enthused about the idea of working with Bobby again," Newey told News of the World. "Maybe that persuaded me to go down a road that I might not have gone down in different circumstances.
"But, on reflection, shortly after agreeing to join Jaguar there was a realisation that changing teams was not the way to go for me. I had previously agreed with Jaguar that nothing would come out until 8.30am on Friday morning. When I spoke to them and informed them of my decision they agreed to stop the press release being issued.
"At that point, only a few people were affected. Despite that it appears they chose to issue the press release. The person I am concerned about in all this is Bobby. He is a good friend and I don't want to upset him. Perhaps this shows the dangers of mixing a friendship with business. I really hope our friendship can weather this."
Newey has been with McLaren since 1997, when he joined from the Williams team after winning several worlds championships, and he admitted his initial decision to move to Jaguar was motivated by the new challenge ahead.
"I am a designer and, like anyone in my situation, I am trying to be creative and, to do that, you look for new stimulation. There is always a danger of getting tired and suffering something equivalent to writer's block and wondering where the next little bit to improve the car, the next idea, is coming from.
"This is a high-pressure sport and I have been working in it a long time. With that constant pressure you are looking for a new stimulus and changing jobs is one way of doing that. It is not exclusive to Formula One — city whizkids do it all the time."
Following his change of heart, Newey said his intention was to stay at McLaren until 2005, but a lot of speculation suggests the 42-year old Briton could be thinking about leaving Formula One in order to design yachts for the America's Cup, the most prestigious yacht race in the world. However, Newey refused to comment on his future.
"I can't comment on what the future might hold for me," Newey added. "But I have made up my mind and I want to stay at McLaren now."
---