Sunday June 10th, 2001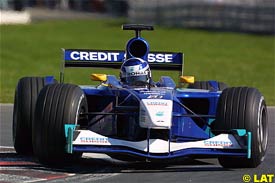 Kimi Raikkonen enhanced his brilliant reputation once more after finishing in a strong fourth position at Sunday's Canadian Grand Prix, equalling his best ever result in Formula One and helping his Sauber team to move ahead of Jordan and BAR in the standings.
The 21-year old Sauber driver, making his Grand Prix debut this season after winning the British Formula Renault Championship in 2000, finished in the points for the third time this year after holding off the opposition of Jean Alesi during the final laps of the race.
Raikkonen's performance allowed the Sauber team to move two points ahead of Jordan and three ahead of BAR, and the young Finn was pleased with his result.
"I'm really pleased to finish in fourth place again," said Raikkonen. "After Verstappen passed me on the opening lap I settled down to a good rhythm until my rear tyres began to go off. Then Zonta hit the back of my car on the straight. I was really lucky not to go off.
"Once we got a new set of tyres on the car it began handling really well again and I was able to pace myself easily to keep Alesi behind me in the closing stages. I think we proved again today what a good car the C20 is."
German Nick Heidfeld continued with his unfortunate weekend as he retired from the race on the second lap when Jaguar's Eddie Irvine hit his car and forced him into a spin.
"Going into the third corner on the second lap Irvine hit my rear tyre and spun me into the wall," explained Heidfeld. "He was far from being alongside me, but I guess he was pushing hard because he was on a two-stop strategy.
"It's a real shame because the car felt good on the formation lap and the first lap of the race, and I was really looking forward to the race. Looking at the result it should have been easy to score some more points today. I'm hoping that my luck changes for the next race."
---