Sunday June 10th, 2001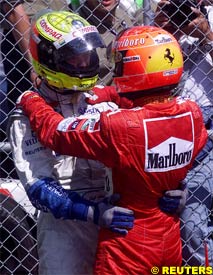 World champion Michael Schumacher was gracious in defeat on Sunday and admitted he was glad it was his brother Ralf who beat him after a dominant performance at the Canadian Grand Prix.
Michael, elder brother of Williams driver Ralf, had to settle for second place after being overtaken for the lead when he made his first and only pit stop, as it became obvious that the Ferrari driver was unable to match Ralf's pace despite having started from pole.
However, Schumacher was happy with his result after extending his championship lead to 18 points over McLaren's David Coulthard, who had retire with a mechanical failure. The German driver admitted he was happy it was Ralf who finished ahead of him.
"If I have to be beaten by someone, certainly my brother is the best person: rather him than anyone else," Schumacher admitted. "I am sure our parents will be very proud as this is the first time we finish in this order on the podium together. I am happy to finish the day with six important points for the championship.
"I was not worried about him doing anything wrong. He tried to get past me, but on the inside line he had to brake early and I could brake much later. So after the pit stop, initially I pushed very hard to close the gap. But normally that does not work, because with a full fuel load at the start of the stint, you are slower.
"So then I drove at my pace, but the car felt a bit nervous because I was pretty near the limit. After that I settled for second place and just looked after my car to the finish."
Brazilian Rubens Barrichello endured a nightmare race after a promising start where he moved up to third place. However, his Ferrari suffered a traction control problem which caused him to spin, losing several positions.
Despite being able to resume the race, Barrichello crashed out after 19 laps when Juan Pablo Montoya spun right in front of him.
"Right from the start, I had problems with the traction control," said Barrichello. "On lap 3 I had to switch it off as it was causing a misfire. It might have been a problem with a sensor, but we will have to investigate. This is what caused me to spin.
"When I came up behind Montoya I was not able to pass him because I no longer had traction control and the car had to much oversteer. Then, he went sideways and off the track and came back across it. I tried to avoid him but there was no room to get by and so I ended up in the wall. This has been a poor weekend for me."
---