Sunday June 10th, 2001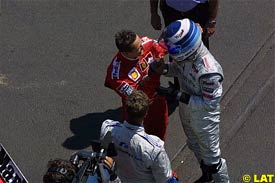 A relieved Mika Hakkinen was happy after finishing in the podium for the first time this season, scoring at the Canadian Grand Prix the same amount of points achieved in the first seven races of the year.
Hakkinen, enduring his worst season in years having not won a race since August 2000, had not finished a race since the San Marino Grand Prix, and despite being unable to match the leaders' pace in Montreal, the two-time world champion was pleased with his result after having to drive a difficult car to third place behind Ralf and Michael Schumacher.
"I'm relieved to finally have made it to the podium which is a good achievement when you start from eighth," said Hakkinen, who now has eigth points. "The pitstop strategy helped to achieve this although I was not 100% happy with the car, because I lost time entering corners.
"During the last 15 laps, I felt a vibration and I'm not sure what caused it, but at the end it meant I had to hold the steering wheel tighter and tighter."
Another streak ended for the McLaren team on Sunday, as David Coulthard's ten consecutive finishes in the points ended after his engine exploded with fifteen laps remaining. The Scot, who had endured an anonymous race until he was struck by problems, complained about his car's set-up.
"However with 16 laps to go, the engine suddenly let go. I have no doubt that I can still win the World Championship and will continue to work towards it - if you don't like a challenge you shouldn't be in Formula One."
Coulthard now lies 18 points behind championship leader Michael Schumacher.
---