Sunday June 10th, 2001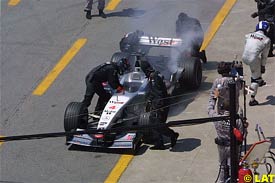 David Coulthard knew he had a major problem at the Canadian Grand Prix moments before the race when he discovered a loose nut in the cockpit of his car.
"My front suspension was detached," said the McLaren driver, whose retirement in the race meant he failed to score points for the first time this season. The Scot remained second in the Formula One championship but now 18 points behind Ferrari's Michael Schumacher.
"When I went to the grid a nut from the front suspension was in the cockpit," he told reporters in the paddock. "I threw it over the pit wall before the start of the race. So the whole car was twisted.
"The team gave me the option to stop but I thought as I was in a points position I should keep going. But there was no way I could drive quickly because the front left wheel was not attached to the car properly."
Coulthard's race finally ended 15 laps from the finish when his engine blew. Ralf Schumacher won for Williams ahead of brother Michael. To add to his bad day, having explained how he could not go flat out, Coulthard was then fined $5,000 by stewards after the race for speeding in the pitlane.
The retirement may have ended Coulthard's status as the only driver this season to score points in every race but he was not downhearted about his title prospects with nine Grands Prix left.
"These things happen now and again," he said. "I have no doubt that I can still win the world championship and will continue to work towards it," he said. "If you don't like a challenge you shouldn't be in Formula One."
Blown Engine
McLaren boss Ron Dennis applauded the Scot for his drive in the circumstances, saying it was an outstanding performance. Coulthard had been third on the grid and remained third for the first few laps despite obviously struggling to keep up with the leaders.
As the race progressed the water pressure in his engine rose and temperatures increased lap by lap until it became inevitable that the engine would blow before the finish.
"He could not attack from the very beginning," said Mercedes motorsport boss Norbert Haug, McLaren's engine partner. "If you look at the lap times, at one stage Mika (Hakkinen) was almost two seconds quicker than David.
"Normally both are equal. We knew that he was going to have a problem with the engine but he just continued as long as he could."
---