Sunday June 10th, 2001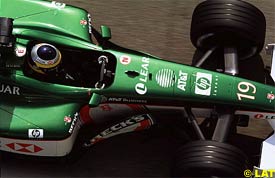 Spanish driver Pedro de la Rosa was delighted after returning to the points for the first time since the German Grand Prix last season, following a strong drive to sixth place at today's Canadian Grand Prix.
De la Rosa, who made his debut for Jaguar is Spain replacing Brazilian Luciano Burti, benefited from Jos Verstappen's retirement four laps from the end to score points for the second consecutive race for the Jaguar team, who finished in third place at Monaco thanks to Eddie Irvine.
"I'm delighted to have scored my first point for Jaguar Racing," de la Rosa said. "I pushed very hard throughout, because I was on a two-stop strategy. The car didn't give me any problems and, apart from the Schumacher brothers, my pace was pretty consistent with the rest of the pack.
"My only concern during the race was the rear tyres, in that I was worried about them blistering too early. I did struggle a little with rear-end grip, but towards the end things got better. The whole team deserves this point and I suppose it helps compensate for some of the bad luck that I have suffered recently."
Irvine, who was outqualified on Saturday by his Spanish teammate for the first time, could not repeat his Monaco feat, making an error on the second lap on the race and crashing into Nick Heidfeld's car. The Irishman admitted his part of the blame.
"I tried taking Heidfeld on the inside into Turn 3 and he turned onto the racing line and we touched," said Irvine. "When you're 15th on the grid you have little choice but to get stuck in and that's what I did.
"It certainly wasn't his entire fault and to be honest, I accept two-thirds of the blame for this one. It wasn't the most fantastic overtaking move in the world."
---