Sunday June 10th, 2001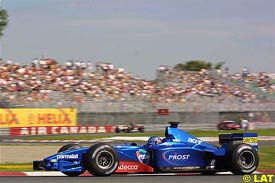 Alain Prost had something more encouraging than two more points in his team's championship locker to celebrate on Sunday after watching veteran Frenchman Jean Alesi finish fifth in the Canadian Grand Prix., only one day before his birthday.
As the champagne flowed and the boys in blue enjoyed a party at the Circuit de Gilles Villeneuve, the four times world champion admitted that "this result is more than points for us ... it is a confirmation of our performance in Monaco. It confirms our potential and our motivation.
"We know the amount of work that is still ahead of us, but today is an extraordinary achievement and encouragement. It is an intense happiness that this result brings to the team."
For Alesi, 37 on Monday, it was also a day of confirmation as he delivered another in his series of memorable races at the Canadian event where he recorded his only victory, in 1995 for Ferrari.
Having finished sixth at the Monaco Grand Prix two weeks ago, when he scored his first points since joining the Prost team at the start of last season, he had every reason to enjoy the shower of champagne which cooled him in the aftermath of a memorable afternoon.
In 12 races at the Montreal circuit, he has now scored one victory, one second, two thirds and a fifth.
"These two points mean a lot to us and they are well-deserved," he said. "I want to thank everybody in the team here and in our factory at Guyancourt for the fantastic job they have done.
"The team has given me a very reliable car so far this season, especially in the last two races, and this has allowed me to give my best. One of the most important things at this track is the brakes.
"The team has done an excellent job on this aspect. Despite a disappointing qualifying position, and a poor start, I never had any problems and I was able to push all the way."
Prost noted that Alesi had been able to run in the leading group for a long period and suggested this was a significant factor for the team as they shake off their image as back-markers.
And he credited tire suppliers Michelin for supplying Prost with the rubber that helped their performance. "The quality of their tyres provided us with the chance to do this today and, of course, we congratulate them on their second victory of the season too."
---