Sunday June 10th, 2001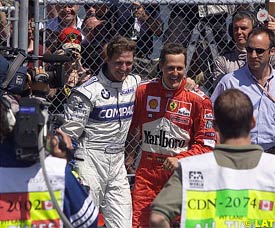 Ralf Schumacher was pleased to win the Canadian Grand Prix fairly after a titanic battle with his elder brother Michael on Sunday.
Williams driver Ralf was forced to chase Michael's Ferrari for the majority of the race and resisted a risky overtaking move at the Circuit Gilles Villeneuve.
At the end it paid off as Ralf took the lead when Michael came in for his pit stop and the hard but fair fight is one that Ralf hopes will set an example in the sport.
"I think we've shown in the past that whenever we've come together it's been very hard fighting between us but fair," said Schumacher.
"At the end of the day we always give safety the priority. You saw today I didn't try any stupid moves but I did try to overtake him as I would anyone else."
---